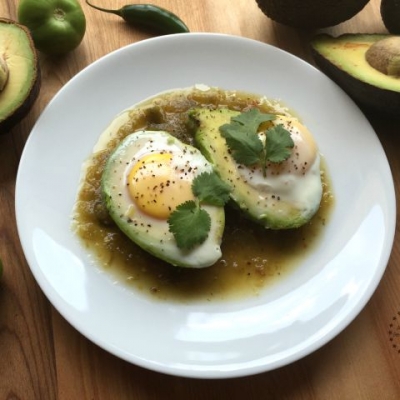 Avocado Egg Breakfast with Salsa Verde
Avocado Egg Breakfast with Salsa Verde inspired in the traditional Huevos Rancheros my mother was used to prepare for us but with a healthier twist. I have chosen hass avocados as the vessel to cook the egg inside and also as a replacement for the fried tortillas in pork lard, one of the main ingredients for huevos rancheros.
Cut the avocado en halves and peel. Then cut a small portion of the base to allow the avocado to evenly stand on its own.

Crack one egg and pour first using a spoon the yolk and then add the whites. Do the same with the other avocado half.

Place the avocados in the skillet and add the water, cover and cook at medium temperature for 7-9 minutes until whites become white and you can tell yolk is still tender.

For plating, pour some of the warm salsa verde on the plate and add the cooked avocado eggs.

Finally garnish with cilantro and season with salt and pepper to taste.