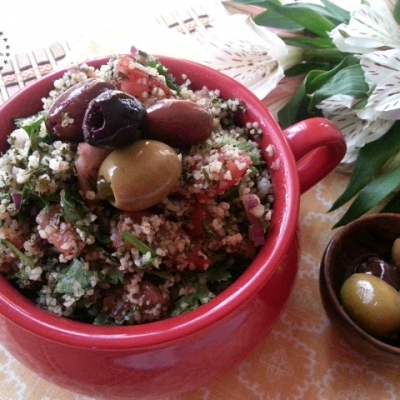 Tabbouleh Salad and Wheat
Tabbouleh Salad is a dish that I grew up with enjoying at home and still now is one of my favorite side dishes to serve with many tasty dishes such as Kebabs, over a bed of fresh spinach, as an appetizer or as a snack paired with hummus.
2

cups

of cooked bulgur

1

cup

of chopped fresh tomatoes

1/2

cup

of chopped purple onion

1/4

cup

of fresh chopped parsley

1

lime

the juice

1

tablespoon

of olive oil

Salt and pepper to taste

1

tablespoon

of fresh chopped mint

Kalamata olives for garnishing
Cook 1 cup of bulgur wheat following the instructions in the package.

Chop the tomatoes, the onions and the parsley.

Combine the cooked bulgur, the tomatoes, the onion and the parsley and combine all together.

Season with the lime juice, the olive oil and salt and pepper to taste. Place in a bowl, cover and refrigerate.

When ready to serve add the mint and garnish with Kalamata olives.