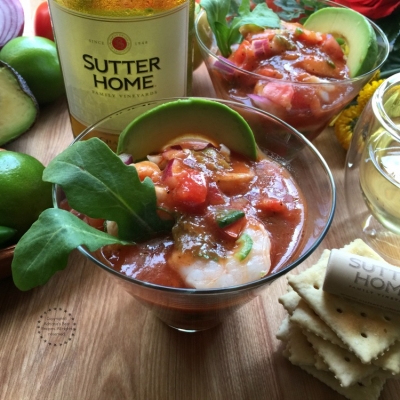 Mexican Shrimp Cocktail
This Mexican Shrimp Cocktail is a perfect appetizer to start a special dinner with a glass of chilled Sutter Home Chardonnay wine to uncork the moments. The main ingredients for this cocktail is fresh seafood and a tomato cocktail sauce made with cold orange soda (which I am replacing with fresh orange juice), tomato ketchup, hot sauce, lime juice and spices. Then topped with avocado and pico de gallo salsa and served with saltines.
1

pound

of cooked

peeled and deveined shrimps

2

cups

of fresh pico de gallo

1

cup

of ketchup

1

cup

of orange juice

1/3

cup

of lime juice

1

tablespoon

of hot sauce

1

tablespoon

of olive oil

1

tablespoon

of sazon latino (cumin

salt, oregano and pepper)

1

in

avocado cutslices

1

cup

of aurugula leafs

Saltines
Combine the shrimps with the pico de gallo in a bowl and refrigerate.

Make the Mexican cocktail sauce mixing the ketchup, the orange and lime juice, the hot sauce, the sazon latino and the olive oil. Use a whisk to incorporate all ingredients together.

In a nice cocktail cup add the shrimps with the pico de gallo and then top with the Mexican cocktail sauce.

Garnish with avocado slices, arugula and saltines.

Pair this appetizer with Sutter Home Chardonnay and enjoy!