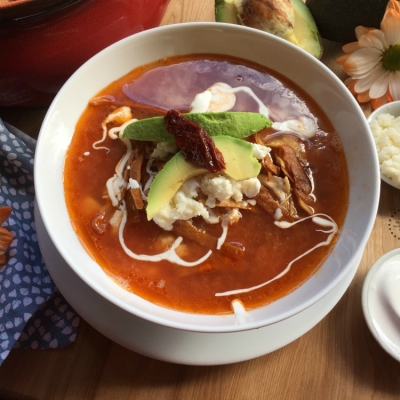 Traditional Caldo Tlalpeno Soup
A caldo tlalpeno soup, made with homemade chicken stock, a chipotle tomato base, and shredded chicken. This soup is garnished with lightly fried tortilla strips, avocado slices, queso fresco and crème fraîche.
1

cup

of tomato puree

1

garlic clove

1

chipotle pepper

1

teaspoon

of cumin

1

pinch

of salt

1

pinch

of ground black pepper

1

teaspoon

of soybean oil

4

cups

of homemade chicken broth

2

cups

of shredded chicken

4

corn tortillas cut in strips

1

tablespoon

of soybean oil

to fry the tortilla strips

1/2

avocado

1/2

cup

of crumbled queso fresco

1/3

cup

of crème fraîche or crema mexicana
In the blender add the tomato, the garlic, the chipotle pepper and the spices and blend all together.

Turn on the stove at medium flame, place the soup pan on the stove and add one teaspoon of soybean oil.

Cook the tomato sauce with the chipotle and the spices in the hot soybean oil. Then add the chicken broth and the shredded chicken. Season to taste. Let it simmer and cover until ready to serve.

Fry the tortilla strips using one tablespoon of soybean oil until golden brown. Place the fried tortilla strips on a paper towel to remove excess fat.

Serve the soup hot and garnish with the fried tortilla strips, queso fresco cheese crumbles, crème fraîche, avocado and a slice of chipotle pepper.