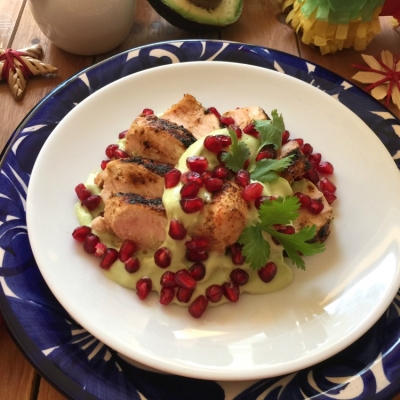 Avocado Crema Chicken with Pomegranate
Inspired by my aunt's recipe for chiles en nogada, I decided to create an Avocado Crema Chicken with Pomegranate Jewels. Instead of using walnuts for the cream, I am using Avocados From Mexico, always fresh and always in season.
4

chicken breast fillets

seasoned with cumin, paprika, salt, and pepper

3

Avocados From Mexico

2

serrano peppers

1/2

cup

of crème fraîche

1

cup

of milk

5

cilantro leaves

1/2

cup

of pomegranate jewels
Season the chicken breasts with the spices and grill stovetop. Set aside and cut in slices for a nice presentation.

Prepare the avocado crema, blending the Avocados From Mexico with the serrano peppers, the crème fraîche, the milk, and the cilantro leaves.

Place the chicken breast slices on a plate and drizzle with avocado crema. Finish by adding the pomegranate seeds, and garnish with cilantro.