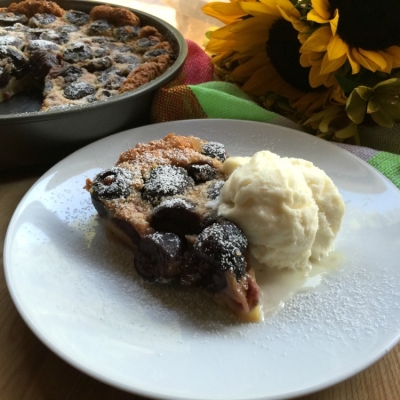 French Clafoutis Black Cherry Dessert
The French Clafoutis Black Cherry dessert is a traditional recipe that was born in the Limousin region of France where there is a bounty of black cherries.
4

cups

pitted black cherries

4

eggs

1/2

cup

refined sugar

1/4

teaspoon

salt

1

cup

milk

1

teaspoon

almond extract

1/2

teaspoon

vanilla extract

3/4

cup

sifted flour

1/4

cup

melted butter

2

tablespoons

confectioners sugar
Clean the cherries with running water, remove the stems and the pits. You can use a cherry pitter to facilitate the process.

Add four eggs in the mixer and beat at medium speed. Then add the sugar little by little and the salt. Proceed to add the almond and the vanilla extracts and continue mixing.

Finally add the sifted flour gradually. Then the milk and the melted butter to room temperature.

Grease a round pan and sprinkle with refined sugar. Cover the mold with the sugar and then pour the custard base preparation for the clafoutis.

Add the cherries and bake at 350 degrees Fahrenheit for 20 minutes or until golden brown. It is recommended to add a mold with water into the oven for moisture.
Use a cherry pitter for cleaning the cherries easily.
When the clafoutis is ready take out of the oven and sprinkle with confectioners sugar.
Serve warm along with vanilla ice cream or whipped cream.