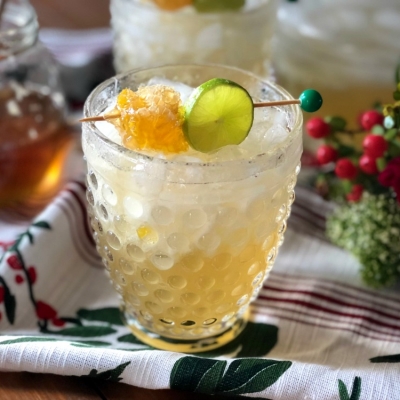 Honeycomb Margarita
This honeycomb margarita has fresh key lime juice, tequila blanco, orange liqueur and a syrup made with Don Victor® Honey and the honeycomb that comes inside. Because the honeycomb is perfectly edible and adds fabulous aroma and flavor.
2

cups

water

1

cup

Don Victor® Orange Blossom Comb Honey Globe Jar

1/4

honeycomb

1

cup

lime juice

4

cups

crushed or frappe ice

1/2

ounce

tequila blanco

1/2

ounce

orange liqueur

1

key lime

cut in slices

4

pieces of honeycomb cubes

4

decorative pins
Prepare the honeycomb simple syrup by adding the water, the honeycomb and the honey to a sauce pan. Stir and cook for 15 minutes.

Juice key limes until getting a full cup of juice. Add this to the honeycomb simple syrup, strain and add to a pitcher.

Add crushed ice to a glass, pour tequila blanco, orange liqueur and stir.

Garnish the honeycomb margarita with key lime rounds and more honeycomb.
The honeycomb simple syrup can be made in advance and kept inside the fridge to use in other applications.
Use the syrup to sweeten agua frescas or making other favorite festive cocktails.
The honeycomb doesn't melt, but becomes soft and aromatic. It is also good on hot biscuits, French toast, or pancakes.
If your honey crystallizes, simply place the honey jar in warm water and stir until the crystals dissolve, or place the honey container into near boiling water that has been removed from the heat.
Remember honey never goes bad. Keep honey on your kitchen counter or pantry shelf. Do not refrigerate.