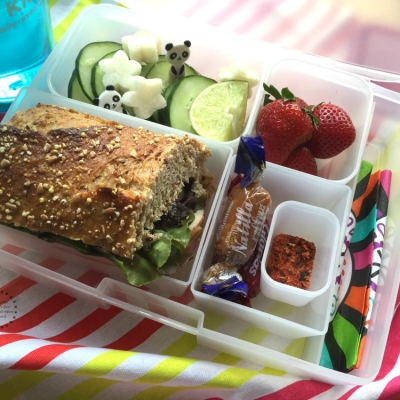 Mexican Bento Box for Lunch
A Mexican Bento Box for lunch inspired on my school days in Mexico City. Includes a "torta" made with turkey meat, black beans, lettuce, onion, crema fresca, and queso fresco. A side of veggies with fresh cucumber slices and jicama flowers. And a portion of seasonal strawberries. To fulfill the sweet tooth, a Mexican candy called "natilla".
5

pieces

of jicama cut in flower shape

can be replaced with carrots

1/4

piece

of a whole grain baguette or bolillo

can be replaced with ciabatta bread

1

teaspoon

of crema mexicana

1

teaspoon

of mashed black beans

2

slices

of smoked turkey

can be replaced with ham or an extra slice of queso fresco

1

slice

of queso fresco

can be replaced with avocado

1

round

of purple onion

1

slice

of tomato

1

lettuce leaf

can be replaced with spinach

5

strawberries

6

slices

of cucumber

1/2

lime

1/2

teaspoon

of chamoy in powder or lime chile salt

1

piece

of Natilla candy or a Gloria

can be replaced with one piece of chocolate
Prep the jicama by peeling and cutting using a pairing knife and a flower shape vegetable cutting device

Cut the one cucumber in rounds and half of a lime. Place the cucumbers along with the jicama flowers and the lime in the veggie compartment box. On a small separate container add there the chamoy.

Clean the strawberries and add them to the fruit compartment in the bento box.

Prepare the torta cutting the bread in two halves. Then spread on one half the crema mexicana and on the other half the black beans. Add the turkey meat and the queso fresco. Finish with lettuce, tomato and purple onions. Close and include in the compartment intended for the protein.

Include a napkin, a fork and the candy and close the bento box. Refrigerate until ready to eat. Enjoy the Mexican Bento Box with a full glass of water.