This post is also available in: Español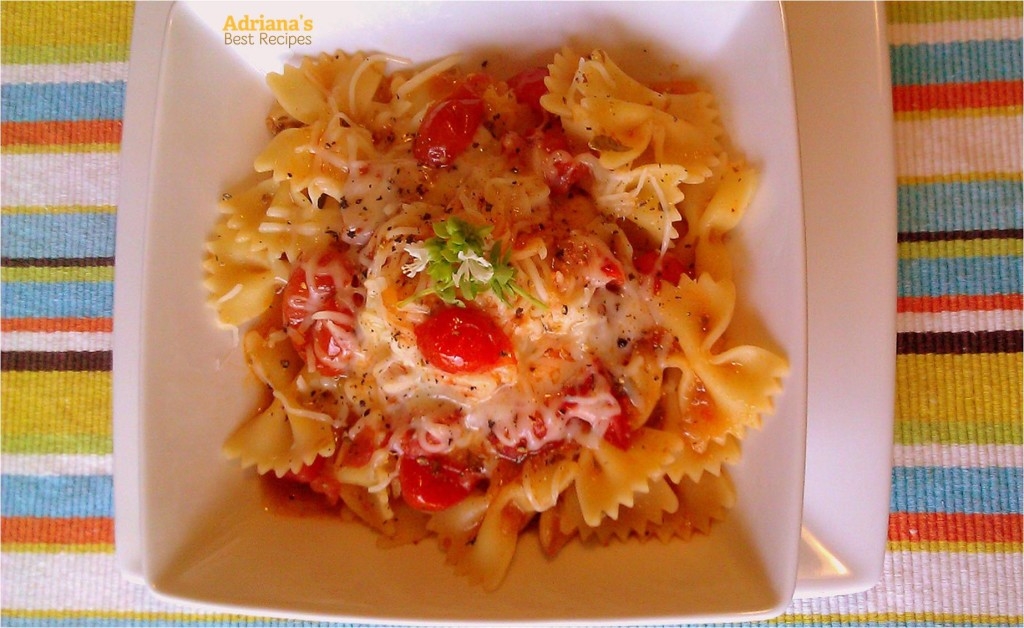 Pasta is such a hit for my family, everyone loves a nice bowl of saucy hot pasta specially when prepared with fresh cherry tomatoes and garnished with basil flowers. This recipe is hassle free and an appropriate option for the "7 Weeks of Lenten Recipe series".
INGREDIENTS
1 box of farfalle pasta (you can use whole grain if desired)
4 cups of fresh organic cherry tomatoes cut in halves
2 chopped garlic cloves
1/2 cup of juliennes of fresh basil
1 cup of white wine (can be replaced with vegetable broth or tomato juice)
2 tablespoons of olive oil
3 cups of freshly grated parmesan cheese
Salt and pepper
Basil flowers for garnishing
Preparation time: 30 minutes. Serves 6 guests. Approximate cost per person $1.50 depending on local ingredients market price. You will need a pasta pan, pasta strainer and a sauteing pan, nice bowls for serving.
Cook the pasta following the package instructions. For preparing the cherry tomato sauce start by sauteing the garlic with olive oil, then add the cherry tomato halves, the wine and season with salt and pepper, let the sauce simmer for 20 minutes at low flame and covered. When the pasta is ready place on a strainer and add the cherry tomato sauce, combine well; then add the fresh basil and serve on a nice bowl. Garnish with freshly grated parmesan cheese and basil flowers.
This recipe is easy and a crowd pleaser.
Enjoy your week!