This post is also available in: Español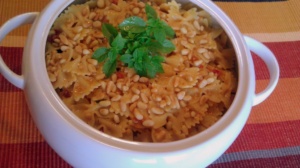 Italian dishes are simple to prepare and could make a wonderful option for dinner or lunch try this easy recipe at home.
INGREDIENTS
1 box of bow-tie pasta known as "Farfalle" (can be replace with Fusilli, Rotini or Penne)
Roasted pine nuts
Parmigiano Reggiano (can be substituted with classic parmesan cheese)
Salt & Pepper
Floret of fresh basil to decorate
Preparation time: 15 minutes. Makes 6 generous servings. Approximate cost per person $3.00 depending on ingredients market price. You will need a pan for cooking and straining pasta and a bowl for serving.
Fill your pan for cooking the pasta with water and a pinch of salt; I prefer not to add oil as pasta will absorb better the sauce. Let the water boil and then add the pasta, be careful in not over cooking, pasta should be served al dente. While this process is going on, roast pine nuts until golden brown. When pasta is ready add the relish and combine well, add salt & pepper and the Parmigiano Reggiano shredded cheese. Serve in a bowl and decorate with a fresh basil floret.
You can accompany with a nice a Pinot, Beaujolais, or a good Italian red "Chianti", garlic bread and a fresh salad.
Mangiare bene!