This post is also available in: Español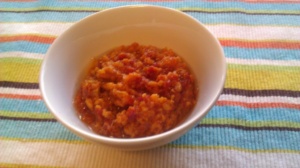 Sauces are very important when cooking and I have found out relishes can be your greatest friend when preparing a quick and easy meals. That is why wanted to share with you this versatile recipe.
INGREDIENTS
1 can or jar or sun-dried tomatoes
3-4 garlic heads cut in halves
Italian extra virgin olive oil
Salt
Preparation time: 20 minutes. Serves 4-6 people. Approximate cost per person $0.50 depending ingredients market price. Check for local market availability. You will need an oven, baking sheet, a mixer and a dish for serving.
Place the garlic halves facing down in the baking sheet and add olive oil, bake for 15 minutes in the over at 430oF or until brown, you will know garlic is ready when the consistency is like butter when squeezing the garlic head with your hands. Be careful as the garlic will be very hot wait until it is warm or you can touch it with your hands, when ready place the complete jar of sun-dried tomatoes in the mixer add ½ cup of extra virgin olive oil, pinch of salt and the garlic paste. Mix until all is blend together. You can immediately enjoy or store in a glass container with a lid that seals. This preparation will be good for several days if store correctly in the fridge.
You can use this relish for hot dogs, hamburgers, add to cooked pasta or as a spread in crostini. This is a simple but delicious option for enhancing your dishes.