This post is also available in: Español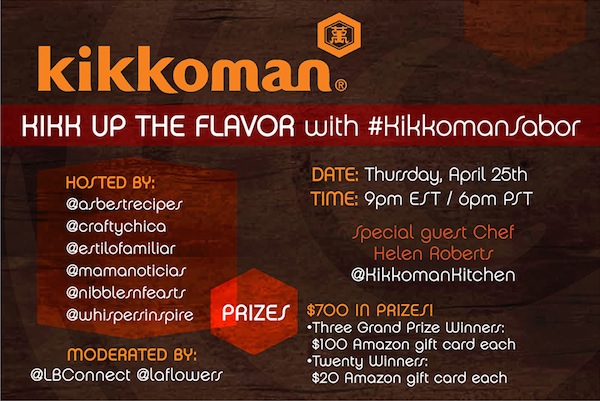 Join me at the #KikkomanSabor Twitter Party  this Thursday April 25 at 9 p.m. EST / 6 p.m. PST alongside fabulous Latinas Crafty Chica, Estilo Familiar, Mama Noticias, Nibbles and Feasts, Whispered Inspirations and moderated by Ana Flores and Latina Bloggers Connect. There will be up to $700 in prizes you don't want to miss as well as great ideas from Chef Helen Roberts who will be joining us for this special event.
Kikkoman soy sauce is a versatile ingredient that can be used to cook many different types of cuisines and it is naturally brewed. You can use the sauce to enhance the flavors of your dishes, specially on  seafood, grilled meats and vegetables. Kikkoman sauces come in different flavors for example the Lime ponzu enhances the flavor of meat dishes like carne asada, carnitas and fajitas. The Kikkoman Teriyaki sauce you can use before cooking your meat by brushing it to enhance flavor and add a tangy barbecue flavor. My favorite the Kikkoman Sriracha Hot Chili Sauce features Asian spices and chili peppers, this is a hot sauce that adds a kick when used as a marinade for meat or as a condiment, truly delicious!
Did you know Kikkoman also has rice vinegar this is ideal for emboldening flavor in salads, paella and soups and even use in ceviche or for pickling. If you want to replace the use of salt with soy sauce you can do it by using 1/2 tsp. Kikkoman Soy Sauce in place of 1/2 tsp. table salt, the sodium content of the recipe is cut by 1000 mg. You can replace sodium in: Soups, salad dressings, roast chicken, ground beef dishes and even tomato sauce.
If you want to learn more about how to use Kikkoman sauce visit their website which is also available in Spanish and has fabulous ideas and recipes.
Meet Chef Helen Roberts, Manager of Culinary Development watch her prepare Ponzu Glazed Chicken, Mac N Cheese and Green Beans, yum!

This article and Twitter party are in collaboration with Latina Bloggers Connect and Kikkoman, though all opinions are my own.