This post is also available in: Español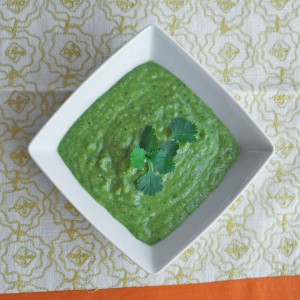 Traditionally this side dish is served in many Mexican recipes; here in the States we love it as a snack. Guacamole is definitely a must have when having a get together and sipping some margaritas. Let me share my savory guacamole treasure.
INGREDIENTS
2 hass avocados ripe
½ white onion
6-8 fresh tomatillos cleaned
2 garlic cloves
Juice of 1 lemon
3-5 Serrano chiles
Cup of Mexican style sour cream
1 bunch of fresh cilantro
Salt
Preparation time: 10 minutes. Serves a lot of people though it is so delicious that you might consider doubling the recipe. Approximate cost for this recipe is $6.00. You will need a mixer, roasting pan and a bowl.
Roast the Serrano peppers and the garlic in a pan, roast slightly the tomatillos. Put all ingredients in a mixer and make sure everything incorporates well and has the consistency of a thick sauce. Place in a bowl and enjoy!
This version of guacamole goes great with grilled steak, chicken, pork, corn chips, quesadillas, you name it. By mixing tomatillos, the sour cream and the lemon juice the avocado doesn't turn brown and you can enjoy it for several days. Make sure to keep refrigerated for later enjoyment.