This post is also available in: Español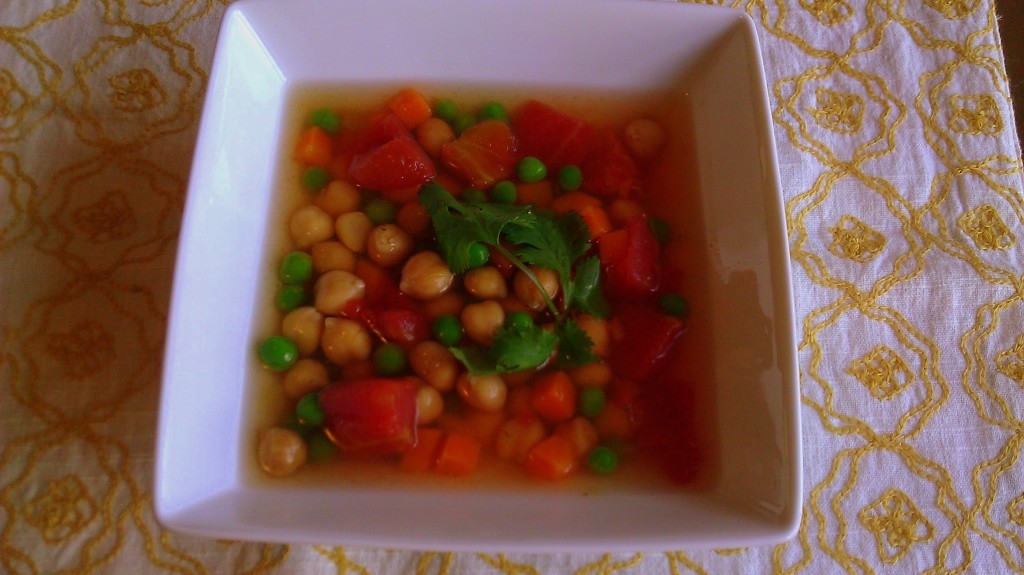 Garbanzo soup is one of those recipes that I keep very close to my heart, my grandma was used to greet us mass with a bowl of this tasty soup; many wonderful memories and the flavors just make me feel at home. This recipe is very easy and healthy also it is an appropriate option for the "7 Weeks of Lenten Recipe series".
INGREDIENTS
2 cans of organic garbanzo beans (also known as chickpeas)
1 can of chopped organic tomatoes
1 bag of frozen petite green peas and cubed carrots
8 cups of vegetable broth
1 bunch of washed celery leaves
Salt and Pepper
Cilantro for garnishing
Preparation time: 30 minutes. Serves 6-8 guests. Approximate cost per person $1.00 depending on local ingredients market price. You will need a deep soup pot.
Place your soup pot on the stove and add the vegetable broth, the celery leaves, the tomato and the garbanzo beans. Season with salt and pepper and let it simmer for 20 minutes, then add the frozen veggies and cook for other 10 minutes. Serve hot and garnish with cilantro.
This soup is very simple and a humble dish; very light option great when having a cold or after recovering of tummy sickness. This is also a vegan and vegetarian option and when you are in the mood for eating something light and delicious.
Hoping you serve this soup to your family soon!